For those of you who do not remember, Baccarat Pro was an Honorable mention in my
best of 2008 application list
...
Have you always wondered what James Bond's favorite card game is all about? Have you seen the high rollers playing a game that you can't understand but intrigues you? Are you interested in playing a game where you can actually bet on losing? If so, then the new application from
Avalinx
is for you.


Baccarat Pro (pronounced bah-kuh-RAH) is an application designed to not only teach you how to play baccarat on your iPhone, but also to teach you the history, strategy, and terminology of the game. With a beautiful interface and amazing graphics, Baccarat Pro can to teach you everything you've ever wanted to know about the popular casino game. This piece of software will give you a good game, good graphics, and a history lesson all for just $4.99.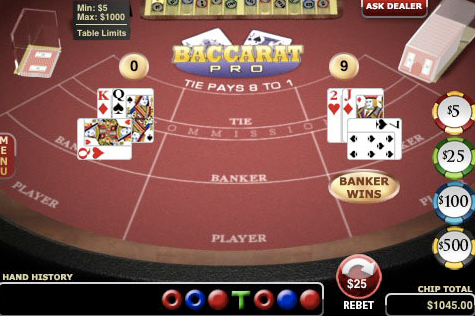 Pros
Baccarat Pro has several amazing features and adjustments that makes it worth your money. The interface works perfectly as each gesture is perfectly executed. All of the menus are easy to find and navigate. Game play is straightforward, as everything works as expected with no hitches. Almost everything is customizable, from the color of the felt tabletop to the card backs and even the number of decks in the shoe. The overall look is absolutely stunning, and the colors, graphics, and animations make my mouth water. This game is a rare beauty in the App Store, and it is one of the best looking and best polished games out there right now.

Did you know that while France is considered the home of Baccarat, it really originated in Italy in the late 1400s? Did you know that the 52-card deck - with the king of spades (David), the king of clubs (Alexander the Great), the king of hearts (Charlemagne) and the king of diamonds (Caesar) – all came to France during the Renaissance? Well, I didn't, until I started thumbing through the History section in the main menu. Here you can find a whole slew of things about the game, from where it opened in the U.S. to different playing styles. The History menu is just one of several useful and enjoyable add-ons to this software.

Now, like many of you, I knew very little about baccarat; I was familiar with it from 007 and really nothing else. I had looked it up, experimented with it a little, but really knew nothing. Even with almost no knowledge, I was able to quickly master the game with Baccarat Pro. To help you, the application has a Terminology and Rules section in the main menu which will teach you all you need. You can see draw/stand/natural tables, some betting ideas, and get a rough understanding of the game. The Strategy section allows you to master betting, which, while mostly luck, is based on current trends and past cards revealed. Then, even while playing the game, it will help you. You can 'Ask the Dealer', which explains recaps the previous hand and the end result. It also keeps track of recent hands (up to fifteen, I believe) on the screen, so that you can properly bet following trends. Avalinx worked very hard to make sure that all players, new and seasoned, could start playing baccarat in no time at all.

Cons
I often find problems or slight flaws in all products, but with Baccarat Pro I was able to find nothing wrong. Really, everything was great. My only real complaint is that the price is kind of steep when you compare it to most of the other card games on iTunes, but when it in terms of quality and look it's well worth it. While the $4.99 price tag might seem a little high, remember that you get what you pay for.

Overall
As hard as it is for me not to find flaws in products, I was unable to find any real flaw in Baccarat Pro. The gameplay was perfect, the graphics stunning, and there was no real problems with the software. The price, while slightly steeper than most card game on iTunes, was well within the expectations given what this game was. Having enjoyed this application a lot, I am forced to give out my first ever 5-star review. Congratulations.