Picking the top ten applications for the iPhone from 2008 was a very tough job to do. I had to decide between many qualified apps. Some of them are popular, some are unknown. Some are free, some cost a bit of money. Some are games, others are utilities. While this list is subjective (as are all top-ten lists), I did my best to base this on actual use, not my own opinion. Enjoy.


10) AP Mobile News Network
This is an application that I use every single day on the bus rides to and from work. Combining AP news feed for almost every single interest, the AP Mobile News Network allows you to keep up with news, sports, your local issues, and the wacky world with ease. Though the application crashed a fair bit when it was first released, the updates have made it much more stable. You can get it free from the iTunes Application Store.

9)Tap Tap Revenge

While I do not really use or like this application personally (not really into this sort of thing), there is no denying the impact this has had on the iPhone. One of the most downloaded applications, and one of the few with sequels, this app is beloved by many. With nifty graphics and enjoyable, addictive game play, TapTap Revenge is definitely one of the best free applications currently out there.

8) Urban Spoon

Far too often I am out driving around with my girlfriend trying to decide on a place to eat. We can usually figure out the type of food we want but never know where to go. Pull out our iPhones and BOOM, we have what we need. The Urban Spoon application saves time by picking a location for you. Plus, as it was featured on an Apple commercial, it clearly is a very popular download.

7) Classics

This is probably the least known of the applications that make my list but one of the better applications out there currently. Containing some of the best classic stories ever told — from The Time Machine to Paradise Lost — Classics allows you to read books on your iPhone and iPod Touch. Using a fully 3D display, it also looks (roughly) and sounds like you are flipping the pages each and every time. Temporarily on sale for $.99 from the iTunes Application Store.

6) Facebook
Not much to say about the free Facebook application. Basically, it does exactly what it should, it creates a full version of Facebook (minus the FB apps) on the iPhone. Sure, you could go to the actual Web site, but this looks and works so much better. The only thing really missing is the phonebook part of the real Facebook Web site. If that was to be included then this would be a perfect addition for any iPhone. While it might not seem like it should be on the list, the ease of use and popularity of the application makes it superior to many others.

5) Touch Physics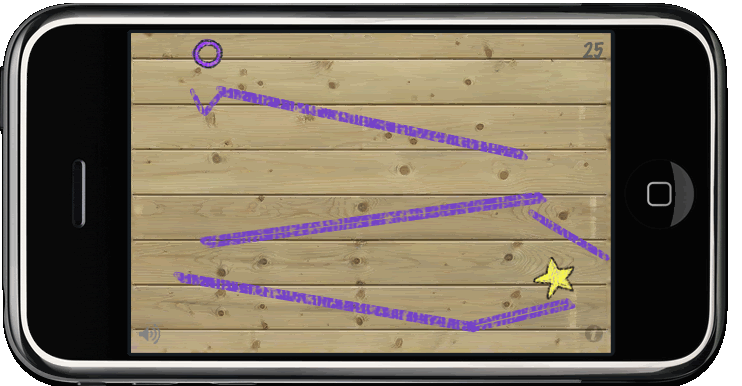 This is, quite frankly, my favorite game on the iPhone. Touch Physics is a game where you simply try to get a ball into a star. Seem simple? It really isn't (as I have played probably about 36 total hours and am still playing). By making tough levels, requiring bouncing over objects, and even having an (might be more than one, stuck on it) invisible level, this "simple" game is addictive, fun, and tough. Plus, it allows you to change the constants as you so wish. It's temporarily on sale for $.99 from the iTunes Application Store.

4) Lux Touch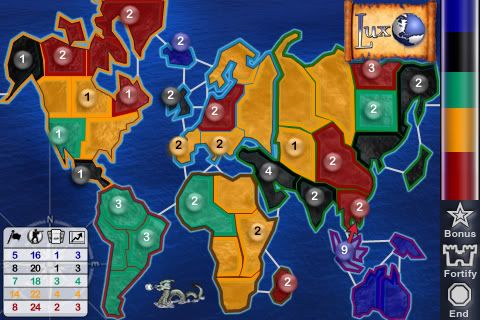 Risk, on the iPhone. Simply put, that is all Lux Touch is. It is a port of their popular desktop version of the game for the iPhone. Featuring full touch control, easy gameplay, and decent sounds, this application is a great time waster. While the AI is easy (the deluxe version fixes that) and the graphics are not that great, this application allows you to waste away 10 minutes at a time with the games. Plus, frankly, Risk is always fun. Get it free from the iTunes Application Store.

3) Sports Tap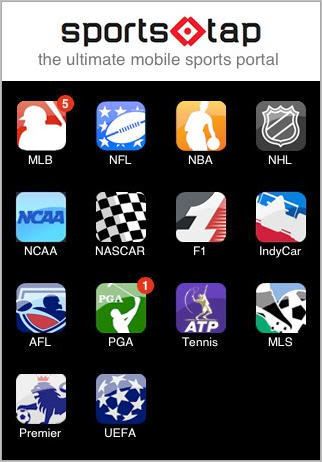 Want to follow play-by-play as the Buckeyes beat the Longhorns on Jan. 5th? Interested in checking the golf scores or the basketball rankings? Well, Sports Tap is the perfect application for anybody who cares about any sport. From MLB to MLS to European Football Leagues to the Olympics, this app puts all sports information at your fingertips, and it's free from the iTunes App Store.


2) Twitterific
While this application has no real practical use in the real world, for those of us who are always twittering it is essential. With a sweet interface, easy-to-use controls, and every Twitter option, Twitterific is a great application. You can view your posts, view your friends' posts, direct message, and even geo-Twitter. For anybody who uses the site and has an iPhone or iPod Touch, this is a must-have free app.

1) Google Mobile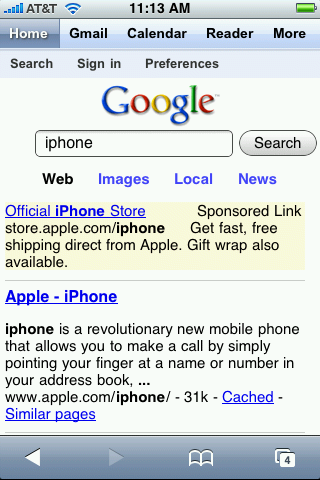 Sure, there are already nice searching apps for the iPhone, but none of them search your contacts, your SMS, your e-mails, and Google all at the same time. Find anything, from the restraunt you decided to eat at (using Urban Spoon, of course) to information on Godwin. The Google Mobile app. also features voice control which is just amazing. With full integration into every other app and every part of the iPhone, this application is a must have for anybody.

Honorable Mentions! These are other applications that I considered for the top ten that didn't quite make it, in no specific order:
Baccarat Pro - $4.99
PuzzleManiak Christmas Edition - $5.99
Free Translator – Free
Hero of Sparta - $9.99
Ebay Mobile – Free
Wikipanion – Free
Spore Origins - $6.99
Night Camera - $.99
Texas Hold 'Em - $4.99
Constitution – Free
Declaration of Independence – Free