(THIS IS NOT A PAID REVIEW, IT IS, HOWEVER, A REQUESTED POST)

Breaking News
Brickfish, the social media advertising network, joined up in early January with Ski Salt Lake to promote the great ski resorts in the Salt Lake Area. The two are teaming up to offer an online competition that is geared at the more wild, but still creative, skiers and snowboarders of the continent. The contest is designed to showcase any 13+ year-old's perfect trick, or hilarious wipe-out. The campaign calls for each person to submit either a picture, or a video, of their trick, or snow-bath, and give a brief description. The winners will win a skiing trip, skis, and/or various other interesting items. For more information about the campaign please visit their website where you can look at the official rules, the prizes, and the already-submitted competition.
From Brickfish
Ski Salt Lake's Goals
While the region around Salt Lake City arguably holds the best mountains in the state, let alone the area, for skiing, and they get a large amount of tourists, they want more. They want younger people, they want 'cooler' people, and they want more publicity. Apparently, the Olympics were not enough. By opening a contest on the web, Ski Salt Lake is able to get publicity everywhere the contestants go, and they are able to generate a buzz about their great winter powder. By getting word out, Ski Salt Lake is hoping to increase their image, their viewer-ship, and, hopefully, their intake. Plus, it is always funny to watch people face-planting.
Additionally, Ski Salt Lake is learning about their newest demographic. For every image and video submitted, they are able to tell key things about the people who could be coming. From the type of ski or board they use, to the things that interest them (there are always interesting things in the background of pictures), Ski Salt Lake is able to identify several useful and needed items. By discovering, for little cost, the buying habits and the mannerisms of their target demographic, Ski Salt Lake is able to re-work their advertising and make sure to get these teens over to their slopes.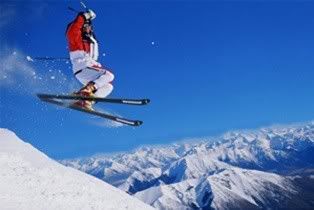 From lilshawt
About Brickfish
Brickfish is a company that specializes in viral advertising campaigns. For all of their contests, they measure how successful a specific entry is by looking at its virtual imprint and thus can tell how far it has spread. By allowing participants to create personalized content they get much better and much more creative advertising than you could get otherwise. Participants then upload their content to social networks on widgets (or Applications for Facebook), IM it to their friends, e-mail it to mom and dad, and blog about it. Other participants can review, vote, and share (it is still linked to you) your product as well. The winners of the contests usually are the people who had the most viral submission.
In other words, the more linked to and the more talked about your submission is, the more likely you are to win the contest. This encourages people to spread their entries like wildfire and to get their families and friends to do the same. Thus, the brand is quickly advertised throughout the Internet, sold by each and every person who entered the contest. This powerful viral marketing vehicle generates extensive brand awareness, engagement, reach, and results.
"Whether you live for fresh powder, are the master of the half-pipe, love the bumps or just like carving, we want to see what you've got" - Brickfish and Ski Salt Lake. No matter how good you are, or how bad, they want you to enter and win. The contest ends 2/11/09, so what are you waiting for? Go enter right now.