EDIT, i can tell you about rule 34 too, YAYS (this means you should stay and read other parts of my site):
Rule 34 is a specific layout for the game of Life, a computer simulation.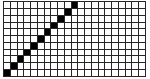 It was considered a stable alternative, until it was discovered that the larger the simulation, the less stable it would be. This version creates several alternating squares (osilators) and shoots out the fliers
Also, as for the "i will call rule 34 on" part, rule 34 means "If it exists, there is porn of it."
Think of wet riffs
For those here looking up Rule 34 from XKCD you are here due to the rss feed on my side bar.
go here for information of rule 34